It is a parkour based 2D game created by NEKKI. Vector game is an exciting, arcade-style game featuring you as the exceptional free runner who won't be held down by the system. 
STORY
The game does not have a long story apart from the introduction video which reveals that the player character is a man in an Orwellian dystopia, no longer able to bend to the will of his masters. 
He casts aside his mind-control device and his shirt, and leaps from his skyscraper prison, sprinting across rooftops toward the distant horizon. This game is not an "endless runner". 
BIG BROTHER
Run, vault, slide and climb using extraordinary techniques based on the urban ninja sport of Parkour all while being chased by "Big Brother" whose sole purpose is to capture you and bring you back.
DREAM
The game opens with a view into a totalitarian world where freedom and individually is nothing more than a distant dream. But the heart of the freerunner is strong, and you soon break free. 
CHARACTER
In Vector, players take the role of a silhouette who is constantly being pursued by another silhouette, seemingly some form of enforcer for the system the player character breaks out of. 
PRO TIP
It is split into discrete levels rather than infinite randomly generated challenges, the players learn from their failures and find the best route to victory.
Game Features
Arcade gameplay from the makers of the hit Facebook game
Astoundingly lifelike Parkour-inspired moves made possible by
Cascade animation tools
20 challenging levels 40 in the "Deluxe Version"
Quick to learn, challenging to master
The best parkour-inspired action game! Vector lets you break free
and run! Don't get caught!
# Vector Gameplay Video by Chalbuzz Gaming
FAQ
How can I get 3 stars in vector game?
Collect all the bounuses and do all the tricks to score 3 stars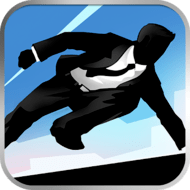 Download Vector Game From The Link ⇊